We all laughed at Die Hard 2 when Lt. John McClane (Bruce Willis) made a phone call on a PacBell pay phone at Washington Dulles International Airport, thousands of miles from the nearest Pacific Bell territory.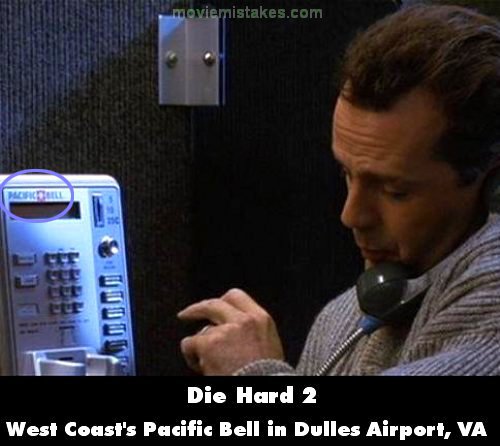 If not PacBell, then who was the LEC there? Not C&P like much of the area to the east. Actually Washington Dulles was GTE territory (which we used say stood for the Great Telephone Experiment before they, too, ended up being part of Verizon).
I checked in with my friend Sam Brown who is an expert on the many peculiarities of telephony in the DC metro area and he reminded me that there were actually two kinds of pay phones at Dulles - "local" (703-661, the "native" exchange for DLLSVAXARS0) and "metro" which were effectively FX lines out of Lorton, VA which was also GTE territory at the time but happened to have metro DC as part of its local calling area (rate center VALORTONMTRO instead of VADULLES).
EDIT: Sam reminds me that Lorton was not automatically Metro. Standard Lorton was 703-690. In Lorton and Dulles Metro was a built-in FX service. In the rest of GTE territory, one could pay a much larger amount for such a line. Lorton and Dulles had the distinction of being the only places that were local to most of GTE-Land (Manassas, Woodbridge, etc.), the District, and Northern VA. Otherwise, in the old days, even Fairfax was not local to any of these outlying nearby communities.
Isn't it great to live in the future with VoIP service where I pay only what amounts to call termination fees regardless of distance and it's fractionally cheaper to call Toronto than to call next door?
I digress though. McClane would have a hard time making a pay phone call today, not because his arms aren't long enough to reach the nearest Pacific Bell phone, but because pay phones are a vanishing breed. Witness where the pay phones used to be at Dulles (picture taken late summer).
If you zoom in, you can see the blank wall plates where the phone jacks used to be.